Molly Lou Melon's grandma taught her to be happy with herself no matter what, but that's not all she learned.
Molly Lou heard all about how her grandma didn't have fancy store-bought toys when she was little.
She made dolls out of twigs and flowers and created her own fun in her backyard.
So Molly Lou does just that, proving that the best thing to play with is a huge imagination!
Hurry Up Houdini! Magic Tree House #50
- Mary Pope Osborne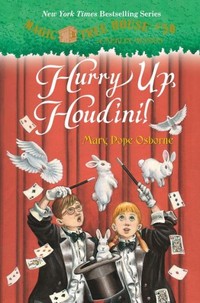 Magic Tree House #50 features Jack and Annie and legendary magician, Harry Houdini!
If kids get hooked on Magic Tree House, they're hooked on reading!
Kizzy Ann Stamps -Jeri Watts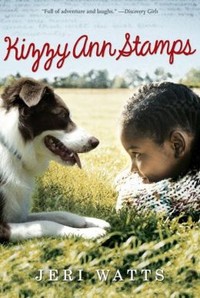 In 1963, as Kizzy Ann prepares for her first year at an integrated school, she worries about the color of her skin, the scar running from the corner of her right eye to the tip of her smile, and whether anyone at the white school will like her. She writes letters to her new teacher in a clear, insistent voice, stating her troubles and asking questions with startling honesty.
The new teacher is supportive, but not everyone feels the same, so there is a lot to write about.
Her brother, James, is having a far less positive school experience than she is, and the annoying white neighbor boy won't leave her alone. But Shag, her border collie, is her refuge. Even so, opportunity clashes with obstacle. Kizzy Ann knows she and Shag could compete well in the dog trials, but will she be able to enter? From Jeri Watts comes an inspiring middle-grade novel about opening your mind to the troubles and scars we all must bear — and facing life with hope and trust.
Killer Species Feedy Frenzy -Michael P. Spradlin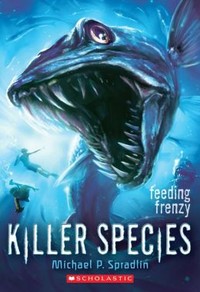 Time has passed since anyone's heard from Dr. Catalyst.
Emmet and Calvin have even begun to think that the crazed scientist might be gone for good.
But then, on a trip to snorkel off the Florida coast, one of their friends is nearly drowned by an underwater monster, with endless rows of razor-sharp teeth.
No one is quite sure what they saw. Was it a moray eel? A giant barracuda?
There's only one thing Emmet knows for certain. Dr. Catalyst is back. And this time, he's out for revenge.