The New Books at Clark
New Book
Have Fun, Molly Lou Melon by Patty Lovell

Molly Lou Melon's grandma taught her to be happy with herself no matter what, but that's not all she learned.
Molly Lou heard all about how her grandma didn't have fancy store-bought toys when she was little.
She made dolls out of twigs and flowers and created her own fun in her backyard.
So Molly Lou does just that, proving that the best thing to play with is a huge imagination!
Hurry Up Houdini! Magic Tree House #50
- Mary Pope Osborne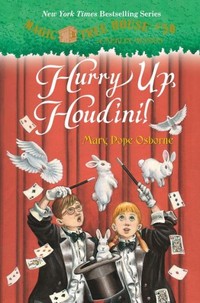 Magic Tree House #50 features Jack and Annie and legendary magician, Harry Houdini!
If kids get hooked on Magic Tree House, they're hooked on reading!
Kizzy Ann Stamps -Jeri Watts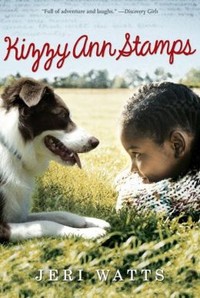 In 1963, as Kizzy Ann prepares for her first year at an integrated school, she worries about the color of her skin, the scar running from the corner of her right eye to the tip of her smile, and whether anyone at the white school will like her. She writes letters to her new teacher in a clear, insistent voice, stating her troubles and asking questions with startling honesty.
The new teacher is supportive, but not everyone feels the same, so there is a lot to write about.
Her brother, James, is having a far less positive school experience than she is, and the annoying white neighbor boy won't leave her alone. But Shag, her border collie, is her refuge. Even so, opportunity clashes with obstacle. Kizzy Ann knows she and Shag could compete well in the dog trials, but will she be able to enter? From Jeri Watts comes an inspiring middle-grade novel about opening your mind to the troubles and scars we all must bear — and facing life with hope and trust.
Killer Species Feedy Frenzy -Michael P. Spradlin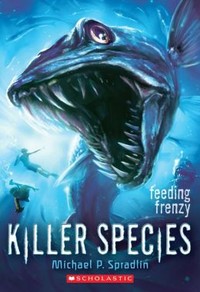 Time has passed since anyone's heard from Dr. Catalyst.
Emmet and Calvin have even begun to think that the crazed scientist might be gone for good.
But then, on a trip to snorkel off the Florida coast, one of their friends is nearly drowned by an underwater monster, with endless rows of razor-sharp teeth.
No one is quite sure what they saw. Was it a moray eel? A giant barracuda?
There's only one thing Emmet knows for certain. Dr. Catalyst is back. And this time, he's out for revenge.
Judy Moody and the Bad Luck Charm
-Megan McDonald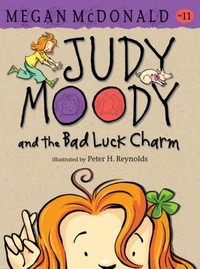 The lucky penny in Judy Moody's pocket sure does seem to be working.
She can't stop winning — at bowling, spelling, the unbeatable Prize Claw, everything!

For sure and absolute positive, she'll ride that wave of good fortune all the way to Washington, D.C.

Watch out, District of Cool, here comes Judy Moody, the luckiest kid ever, until . . . oh, no!

Her lucky penny just did a belly flop into a porcelain bowl of yucky, blucky UNluck.

Has the coin's magic gone kerflooey?Are some people, like Jessica Finch or Stink,

destined to have all the luck, while she, Judy Moody, gets stuck with a yard full of three-not-four leaf clovers, a squealing potbellied pig in an elevator, and a squashed penny with cooties?

ROAR!
The Surprise Attack Of Jabba The Puppet An Origami Yoda Book
-Tom Angleberger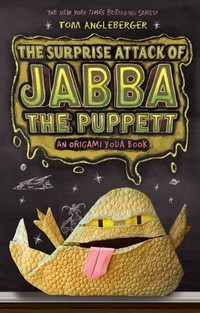 Dark times have fallen on McQuarrie Middle School. Dwight's back—and not a moment too soon, as the gang faces the FunTime Menace: a new educational program designed to raise students' standardized test scores. Instead, it's driving everyone crazy with its obnoxious videos of Professor FunTime and his insidious singing calculator! When Principal Rabbski cancels the students' ield trip—along with art, music, and LEGO classes—to make time for FunTime, the students turn to Origami Yoda for help. But some crises are too big for Origami Yoda to handle alone: Form a Rebel Alliance the students must. United, can they defeat the FunTime Menace and cope with a surprise attack from Jabba the Puppett?
Jump, Frog, Jump
-Robert Kalan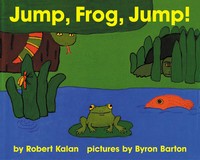 "This is the turtle that slid into the pond and ate the snake that dropped from a branch and swallowed the fish that swam after the frog
-- JUMP, FROG, JUMP!"
This infectious cumulative tale will soon have the young frogs you know jumping and chanting with joy.
Weather Forecasting
-Gail Gibbons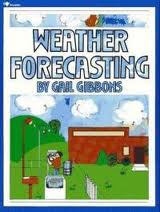 Will I need my umbrella?
Is it a good day for the beach?
Will school close because of snow?
These are the questions weather forecasters answer every day.
They can tell us what the weather is doing at any time of the day or night. But how do they do it?
Weather Forecasting tells how.
With straightforward text and colorful pictures, this behind-the-scenes look at a modern weather station answers basic questions kids ask most, and makes weather forecasting more fun and accessible than ever.
Thanksgiving Is...
-Gail Gibbons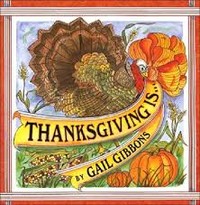 Thanksgiving is turkey, cranberry sauce, and pumpkin pie. It is a holiday for remembering the Pilgrims and the Indians.
Most of all, it is a time to share with family and friends, and a time to give thanks for many blessings.
Grizzly Bears
-Gail Gibbons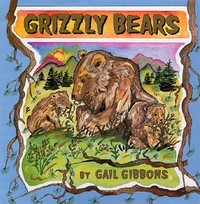 Grizzly bears have no enemies but humans.
Here are fascinating facts about their habits, biology, and important place in their ecosystem.